Message from the Head of GSC International Graduate Program
The Green and Sustainable Chemical (GSC) Technologies program under the Graduate School of Science and Engineering of Saitama University is an international doctoral program for Highly-skilled Professionals for Development of Green and Sustainable Chemical (GSC) Technologies applied to poverty areas of Asia, Africa and the rest of the world. The program aims to actively contribute to guaranteeing sustainability and assisting in the achievement of Sustainable Development Goals (SDGs), by monitoring and reducing the environmental impact from fuels and noxious wastes, chemicals through developing alternative and sustainable technologies that are non-toxic or less toxic to living things and the environment.
GSC program offers excellent opportunities to highly qualified international students for pursuing graduate studies and research with cross-disciplinary basic science and applied knowledge, accessing sustainable development from the fields of study including, but are not limited to, different research fields of Chemistry, Material Science, Environmental Sciences, Ecological Engineering and Environmental Health Sciences.
In terms of research and course work, we are dedicated to providing the greatest learning environment. Our faculty has world-class experimental, computer, and reference facilities and is made up of recognized authorities in various disciplines. All lessons are taught in English, but we also provide Japanese language instruction, opportunities for cultural interaction, tours of Japanese businesses, and other activities to help students get the most out of their time spent studying abroad in Japan.
GSC program starts in October and requires a standard three-year residency for the completion of a doctoral degree.
We look forward to welcoming you to our Green and Sustainable Chemical (GSC) Technologies International Professional Program at Saitama University.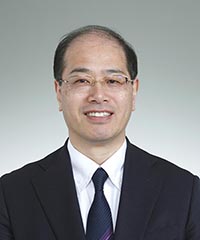 PROF. QINGYUE WANG (O SEIYO)
Professor
The Head of GSC Program
Graduate School of Science and Engineering
Saitama University
O SEIYO
What's New
Jan. 20, 2023

Application for the MEXT scholarship for the enrollment in October 2023 is closed. Thank you so much for many inquiries and applications.

Nov. 08, 2022

Application for the MEXT scholarship 2023 is open now. You can still make it on time. If you wish to apply for the MEXT Scholarship, please submit it to (gsc@gr.saitama-u.ac.jp) first. You can download the application and the relevant information. We look forward to your application.

Aug. 13, 2022

GSC Program Application Guidelines & Application Forms (MEXT Scholarship University Recommendation) for 2023 are now available on our website.Please click here for more information.

Jul. 13, 2022

The website of International GSC Program has been renewed.